pkSIG 17-20 August 2020, Pakistan
6th Pakistan School on Internet Governance
Sixth Pakistan School on Internet Governance (pkSIG) was held virtually from 17-20 August 2020. The School has been conducted by a group of volunteers, comprising of Government, civil society, technical experts and private sector since 2015. pkSIG was supposed to be held in the mountainous terrains of Gilgit this year, however, it was decided by the Steering Committee to conduct the school online, keeping in view the safety and well-being of students amid the COVID-19 pandemic.
pkSIG 2020 was attended by 48 participants from across Pakistan, featuring a rich mix of experienced and young professionals, students, technical experts, entrepreneurs and academic scholars. Zoom was selected as the platform to deliver lectures and conduct Q&A in order to engage dialogue and encourage audience participation. The program was divided over four days with approx. three hours of virtual classes every day. We had a great line up of local speakers and international experts from prominent organizations like Google, Facebook, APNIC, ICANN, ISOC and American Chamber of Commerce in Japan. Asia-Pacific Alliance for Schools and Academies of Internet Governance (APASA) provided funding for the school this year. The virtual environment was well appreciated by the participants, as the school received over 4.5/5 rating in the feedback received during the post-evaluation process. If you are interested in the recording or slides presented at pkSIG 2020, please visit https://pksig.pk
pkSIG holds the honour of being the first national school on IG in the Asia-Pacific (2015) and with the successful completion of the sixth annual class in 2020, pkSIG broke ground by becoming first virtual national school on IG. This achievement reaffirms the commitment of IG stakeholders in Pakistan to disseminate meaningful, updated and insightful information on the important paradigms of Internet Governance to the Internet community of Pakistan. We keep our fingers crossed to hold the school next year at 5000feet above sea level i.e. Gilgit or simply go online again. Whether virtual or physical, continuity of the initiative is a must for us.

Pakistan School on Internet Governance
Program Agenda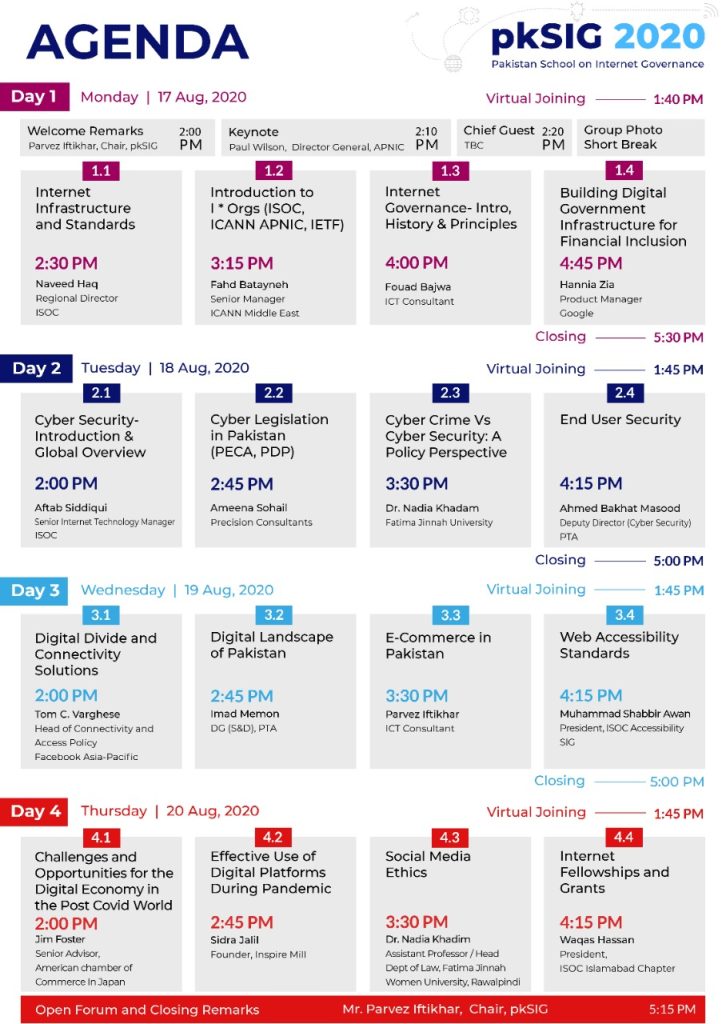 Pakistan School on Internet Governance
Presentation Slides